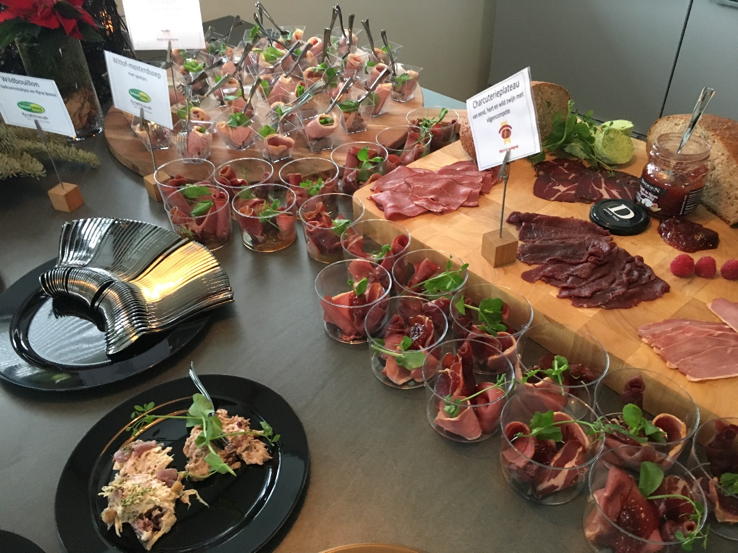 Op dinsdag 21 november stond er weer een leuk evenement in de agenda. Dit maal organiseerde wij een eindejaarsproeverij. Tijdens deze proeverij werden onze feestmenu's voor de feestdagen van 2017 gepresenteerd.
Aan het eind van de middag ontvingen wij de klanten op onze productielocatie aan de Albrandswaardsedijk die, voor deze gelegenheid, volledig was omgetoverd in kerstsfeer.
Om een mooi feestmenu samen te stellen zochten wij de samenwerking met Martijn van Gemst, chef-kok en unitleider Horeca F&B bij Stichting Zorgwaard in de Hoeksche Waard. ''Als je bord mooi opgemaakt is, eet het echt beter leeg. Zo werkt dat gewoon!'' aldus Martijn van Gemst. Om hier op in te spelen hebben wij de aanwezigen laten zien hoe je met kleine aanpassingen en toevoegingen een gerecht zoveel leuker en feestelijker kunt maken.
Een mooi voorbeeld hiervan is het gebruik van frisse kleuren zoals het groen van de cress of sla en het rood van frambozen of aalbessen, hiermee wordt een gerecht visueel nóg aantrekkelijker! Ook de opmaak van de tafel draagt bij aan de beleving van de bewoner. Door gebruik te maken van mooie tafellopers, kerstservetten en placemats is het mogelijk om met een kleine inspanning een echte kerstsfeer te creëren!
Eten moet een feestje zijn, zeker met de feestdagen!